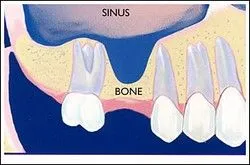 Loss of back teeth may result in excessive chewing forces transmitted to your remaining teeth. Fortunately, dental implants allow you to replace these missing teeth. In some cases, however, the position of the sinus may be too low for proper placement of dental implants.
A simple procedure allows the sinus floor to be raised, creating enough space to properly place an implant of adequate length. Various grafting materials are used to encourage your bone to grow into the area, helping to stabilize the dental implant. The bone materials are replaced by your own bone over the next few months. A dental implant can be placed after 6-9 months of healing.
Sometimes an even simpler procedure can be performed. When possible, the bone remaining under the sinus floor is gently "pushed up", thus lifting the floor of the "dropped" sinus. Bone replacement materials are then placed beneath this lifted bone. Once again the bone materials are replaced as your body grow new bone into this area. This procedure allows the dental implant to be placed on the same day.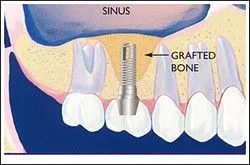 Sinus augmentation procedures are very successful. Having this important procedure will allow you to have dental implants placed in the best position with the highest chances of long term survival.
Dr. Sarosh Dastoor works very closely with your referring doctor in coordinating and communicating about your sinus lift appointments.